Buying an E-Bike In-Store Vs. Online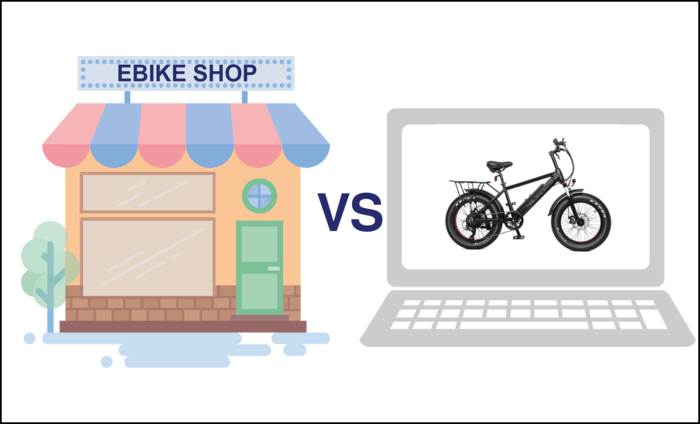 When it comes to shopping in-store vs. online, nothing beats convenience right?
If you're thinking about investing in an e-bike and not sure whether to purchase online or in-store, this article is for you! Read on to find out the benefits of each …
Buying An E-Bike InStore
Let's face it, e-bikes are not cheap. It's a high ticket item and you want to make sure you get it right. In cases like this, there's nothing that can compare to physically being able to see your e-bike, take it for a test run and ask staff questions.
Benefits of Buying an E-Bike Instore
You can speak directly to an e-bike salesperson and ask the right questions while inspecting the bike.

You enjoy the experience of holding the bike, sitting on it and in some cases demo rides.

You may try out different models and sizes to get the best fit for you and your riding style

Your bike will come fully assembled and tuned.

In some cases, additional accessories can be installed at no extra cost.

Warranty and service can be done by the professionals where you purchased the bike.

You can buy with confidence since you will have an experience of how it feels.
Buying an E-Bike Online
Buying an e-bike online can be quite a hassle-free experience. Nothing is more relaxing than venturing on a store website, checking out the models, their features, and online reviews before committing to purchase. 
Benefits of Buying an E-Bike Online
You don't have to queue to make your purchase.

You don't have to walk from store to store – it's a one-stop shopping experience.

You can do your research in your own time without any pressure

There are several trusted sites with detailed reviews about the E-Bike you intend to buy to help you make an informed decision.

You don't need to hire a vehicle to deliver the Ebike to your place. Most manufacturers even offer free shipping services.
Final Thoughts
Whether you decide to buy online or visit an e-bike shop, it's an investment and one that you'd hope to have for the long run. It's important to find the perfect e-bike for your needs and budget.

Looking for a great gift this Christmas? We have a wide range of e-bikes $2000 or under to choose from. Check out our full list here: https://www.teslica.com/blogs/ebike-blog/best-ebikes-under-2000/
Be the first to comment...