How to Protect Your E-Bike From Theft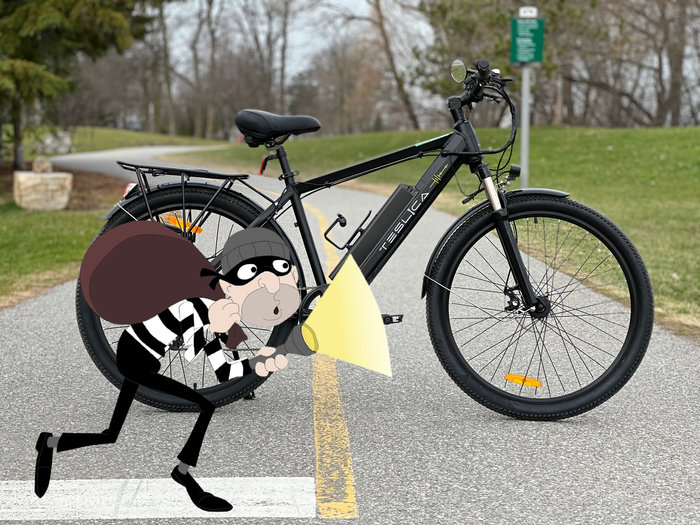 It's safe to say that your e-bike is an investment. 
Whether you're using it for commuting or the trails, it gets you from A to Z and provides a healthy and more environmentally friendly alternative to a car.
It's important to maintain your bike and protect it from the elements but, it's also important to protect your bike from theft too!
In fact, since the pandemic, there's been a spike in bike theft throughout the Ottawa Region.
At Teslica, we care about our clients and want them to enjoy their investment for years to come.
We've put together this article to provide you with Our Top 5 Recommendations for E-Bike Theft Prevention.
Tip #1 - Invest in a high-quality lock
U-Locks
Unlike chain locks, U-Locks are lighter to carry and easier to use. They are difficult to break open with a hammer and keep a tight space between your e-bike and the object you're securing it to which makes it harder to cut. An added bonus, they are relatively inexpensive. 
(We carry 2 types of U-Locks online and in our store. Click here to check them out.)


Chain Locks
Another way to ensure your e-bikes safety is with a chain lock. Chains are difficult to cut, easy to operate and much like the U-Lock, can require a dual cut in order to break your bike free making this a deterrent for any time pressed thieves.

Multiple Locking Systems
Not sure which lock to choose? Why not have both? Having multiple locking systems in place will help protect your investment even more and provide that added peace of mind that if someone wants to get to your bike, they will have to put in more time and effort with a high chance of getting caught.
Bonus: If you can, install an ebike lock alarm or GPS tracker. These devices can be attached and hidden on or inside your bike. When triggered, it lets out a loud alarm sound for 30 seconds to 1 minute indicating that your bike is being stolen or you may be able to see its actual location.
Tip #2 - Remove Your Battery 
Something you should keep in mind when it comes to protecting your e-bike from theft is that an ebike without a battery is less attractive. . 
Most batteries can be easily removed with a key so taking it along with you should be another step for theft prevention. 
Tip #3 - Properly Secure Your E-Bike
It's important to properly secure your e-bike at all times. You can take advantage of the bolted down bike racks throughout the city or secure it safely to a post or railing by using a U-Lock and/or a chain.
If you have access to a secure storage facility (like a garage for example) that's even better.
Always try to lock your e-bike in a high traffic area and take a look around to see if there may be any security cameras that would add another layer of security.
Tip #4 - Register Your E-Bike With 529 Garage
With a community of over 400 law enforcement agencies, bike clubs, bike shops, post secondary schools and community users, if you become a victim of theft, you'll want to take advantage of this service. Visit their website to get started: https://project529.com/garage.

Tip #5 - Get Insurance
It's important to insure your e-bike. First check with your home owners insurance to see if you have enough coverage and be sure to disclose your e-bike and its value to your insurance agent.

If you have existing insurance on your e-bike, double check to ensure you have theft coverage as well. Liability and theft are typically separate tiers on your policy.

Questions? We're happy to help! Stop by our shop located at 244 Britannia Road Ottawa,ON or give us a call at (613) 627-4285.
Be the first to comment...